How Click & 3DPrint makes 3D Printing faster and easier!
3D printing is evolving!
The future lies in the ability to forgo long and arduous technical processes. The road to accessibility lies in 1 click 3D printing.
MyMiniFactory is happy to be at the forefront of this evolution, with the technical development of Click & 3DPrint. Partnering with BIQU among other manufacturers to embed the easy to use technology into their hardware.
We'd like to take the opportunity to share with you some more information about Click & 3DPrint. What is it? What does it mean for 3D printing? And of course, where is it available?.
First, to explore the future we must understand the present.
How Does 3D Printing Work Now?
To get an STL ready to correctly 3D print, we rely on slicing.
Once you've designed your 3D printable model in CAD software, you must run it through a dedicated slicing software. Using the slicing software you can convert the STL into G-Code, a control language that your 3D printer can understand.
When slicing, you instruct the 3D printer to follow certain parameters. The speed of print, layer height and geometry are the basic settings to adjust. You would also set the amount of infill, the volume of supports and any rafts, skirts or brims. Some more advanced software can handle geometric dimensioning and tolerance as well.
Once you have an STL file that is translated to G-code and ready for 3D printing it can be sent to your desktop 3D printer. This is when the actual printing progress begins. After a number of hours, depending on the object size and complexity, you'll have your 3D printed object.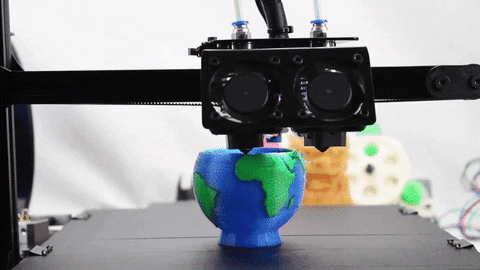 Slicing is therefore a somewhat technical process. A process that early makers at 3D printing are used to and can operate with ease. It's also a process that can be daunting to those entering the space for the first time, or those with less technical skills. This is where MyMiniFactory's Click & 3DPrint comes in.
How Does Click & 3DPrint Help?
MyMiniFactory's Click & 3DPrint eliminates the need for slicing and offers a variety of high quality 3D printable content, from MyMiniFactory, ready to print right from your hardware.
As 3D printing becomes more widespread through lowering costs and desktop 3D printers become widely used, the seemingly small barriers to entry must also be reduced. Click & 3DPrint offers a user-friendly solution for an otherwise elaborate process to accelerate and further the adoption of 3D printing.
When using Click & 3DPrint to download an STL, the CAD file will automatically be sliced by software such as Cura. This will generate a G-Coded model with the optimal settings.
Our technical team at MyMiniFactory even developed an open-source auto-slicing software called 'p2slice'. P2slice will automatically prepare your CAD file with the optimal settings before the automatic slicing process - it will literally 'prepare-2-slice'.
• Select the STL file
• Click 3D Print
• Let p2slice works its magic
• The G-Code will automatically be created
• Then your object beings to 3D print.
This means that you can quite literally click one button and 3D print your STL file. It's as easy as that!
How Compatible Is Click & 3DPrint With 3D Models On MyMiniFactory?
85% of the objects on MyMiniFactory have Click & Print capability.
We first introduced the Click & 3DPrint functionality in 2017. With its introduction, 8,000 items from our Scan The World collection could begin 3D printing with the click of a button. Yet, it still required some preparation work, setting up the Octoprint plugin to enable Click & 3DPrint and having access to a STARTT 3D printer. Since then more and more 3D printers have become compatible with the technology using the 3rd party plugin and MyMiniFactory's Click & 3DPrint technology. You can view the list here.
If you have a wifi-enabled printer, you can use the open-source Octoprint-MyMiniFactory Plugin. This will give your printer the ability to use the Click & 3DPrint feature and give you immediate access to over 50,000 guaranteed 3D printable models.
If a 3D printable model is compatible, you will be able to select 'Click & Print preview' under the STL download. This will allow you to download the sliced G-Code, and start 3D printing immediately.
What makes MyMiniFactory the ideal home for this Click & 3DPrint functionality? Namely, we value purposefulness which means we're all about quality. Every STL file uploaded on MyMiniFactory has been checked for printability. This ensures when you download an STL file to 3D print, you're not wasting time or filament. Our curation process consists of a software check and human approval. Someone from our community of vetted makers has already 3D printed the model to ensure you don't see a pile of plastic on your printing bed after you walk away.
The BIQU Thunder & MyMiniFactory Click & 3DPrint!
Though there are multiple 3D printers compatible with MyMiniFactory's Click & 3DPrint, one printer is a step ahead. The BIQU Thunder!
The BIQU Thunder is the first 3D printer to natively integrate with MyMiniFactory's Click & 3DPrint functionality through the MyMiniFactory App. Don't worry though, we've got plenty more integrations we're rapidly working on to share with you. It's only the beginning!
Luckily as easy as Click & 3DPrint is to use, so is the BIQU Thunder. To use the integration:
Download the MyMiniFactory mobile app on the AppStore or GooglePlay
On the MyMiniFactory app, you'll find a QR code
Connect the printer to the internet and scan the code on your phone, this way your mobile device and your BIQU will be connected.
Once you find the model you're looking on the app, click 'print'
Select your BIQU printer: If you want you can scale the print up or down, or select only one piece to print.
When you're ready click 'Print this Object' and the BIQU Thunder will take care of the rest!
One of the best parts about this process is that you don't even need to be near your printer when you do it! Since your 3D printer uses Wi-Fi, it'll receive your instructions wherever you are. So make the most of it! Choose a model to 3D print on your lunch break, and it'll be completed [hopefully] by the time you get home from work!
Excited, but don't have the right hardware? No problem. The BIQU Thunder is available to buy now.
Why Does Click & 3DPrint Matter?
The keyword is accessibility. We've written before about how 3D printing is being utilized by more industries as time progresses. It's changing the face of fashion, education and even helping to solve environmental & ethical issues.
As 3D printing impacts more and more parts of our everyday lives, desktop 3D printing naturally must cater to the broadening advancements. With innovation and progression comes widespread demand, increased availability and reduced barriers to entry. The more people can benefit from it, the more important it becomes to be user-friendly.
Over the past 2 decades, we've seen incredible technological advancements. Where once the idea of a handheld, touchscreen mobile phone was a dream in a futuristic world, over 3 billion people worldwide now carry seemingly tiny computers in their pocket. Today, it's like flipping through the pages of a book. This ease of use and evolution of technology is inherent.
Today we believe Click & 3DPrint is one of the first of many steps in bringing 3D printing to the masses. It pushes us towards a world where every home has access to their own 3D printer. The days when 3D designing, 3D printing, and making will be a native skill. What an exciting world that will be!
Who Will Click & 3DPrint Benefit?
Removing the need for technical knowledge, as MyMiniFactory's Click & 3DPrint does with slicing, expands the ease of use of 3D printing to 3 main demographics:
The older generation. Though don't get us wrong, there are plenty of tech-savvy, highly advanced elderly, those who may not have the desire to tinker with the settings now don't have to worry about it. Click & 3DPrint brings them right up to par with the ever-evolving technology of today's world.
Young children. We're not talking those 10 year olds either (they're probably more knowledgeable than most of us on this technology anyway). We're talking about really young children, teens and even university students who may be more interested in printing and prototyping than setting up the slicer.
3D enthusiasts. People who are passionate and interested in 3D printing but are overwhelmed by the hurdle of parameters, layering, and slicing. Now, simply jump in without needing any such formal introduction, simply plug and play.
Getty Images
Even 3D designers and makers who are well versed in slicing and all aspects of 3D printing can find the Click & 3DPrint technology handy. A gateway introduction to friend and neighbors who haven't played with a 3D printer. Maybe even using your knowledge of slicing to get the perfect conditions for printing and help enhance the open-source software through our github. Especially for those times when you want to 3D print in a hurry, or you want to 3D print via your phone when you're far away from your hardware, Click & 3DPrint can be an essential tool.
All in all, we hope you find MyMiniFactory's Click & 3DPrint technology to be an exciting new step towards 3D printing accessibility. Whether it's eliminating the need for slicing, or the hassle of transferring files to the printer via USB, SD card etc or simply saving you some time.
And we hope you enjoy the native integration of the BIQU Thunder. Granting access to tens of thousands of 3D printable files by the tip of your finger. It's only just the beginning.
Have you used Click & Print? Do you know anyone else who would appreciate the ability to print this easily? Let us know by emailing us here.
Be sure to share the info. If you've used the Click & 3DPrint to make anything, or you have suggestions of your own be sure to share them with us and the community. You can do this via Twitter, Instagram, Facebook or Reddit discussion page.
It's as easy as Raspberry Pi!