Elephant table clock
Published 2016-02-03T12:26:23+00:00
3,824
views
215
downloads
Community Prints
Add your picture
---
Be the first to share a picture of this printed object
Elephant table clock
Published 2016-02-03T12:26:23+00:00
Elephants often appeared in European art as a symbol of Africa. Here an elephant is brought together with a monkey dressed in what are meant to be Chinese clothes. It was common in interior decoration for different foreign features to be combined in this whimsical and illogical fashion. Scenes in which monkeys imitate human behaviour were also popular.
Elephant table clock with movement by Jerome Martinot (1671-1724) and case by Philippe Caffieri (1714-1774). The base is a later addition and the dial is a 19th century replacement. Such clocks were assembled by marchands merciers in Paris. They commissioned works of art which combined contrasting luxury materials including bronze, horn, porcelain and ormolu. Such elaborate clocks often included an organ in the base. Other mid 18th century clocks incorporate elephants in ormolu or Meissen porcelain, or lions in Chinese porcelain. Although the surface chasing on the V&A's example is not of the highest quality, this may be explained by the later regilding which covers the original chased surface.
Jerome Martinot was Valet de Chambre- Horloger Ordinaire du Roi to Louis XIV in succession to his father Jean Martinot with whom he worked until 1702. Jerome Marinot's most famous creation was a moving armillary sphere made in co-operation with Thomas Haye, a celebrated manufacturer of scientific instruments. The sphere was displayed in the small gallery at Versailles and Martinot was paid 400 Louis d'or from the king's private purse for the work which was presented to the king on 28th February 1701. Jerome Martinot was certified insane in October 1718 and was succeeded by his son Jean as Valet de Chambre-Horloger du Roi and Gouverneur du Grand Horloge du Palais. Both father and son lived under the Grand Horloge. It is likely that the movement, although signed by Jerome Martinot was supplied by his son Jean who regularly produced clocks for the royal household and used cases by J.Caffieri, E.J.Gallien, J.J,.de Saint Germain and A.L.Duval.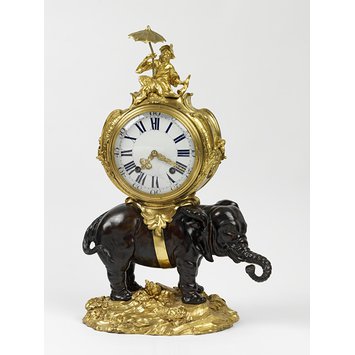 (image, v&a)
Gallery location:
Europe 1600-1815, Room 3, case CA14
This object is part of "Scan The World". Scan the World is a non-profit initiative introduced by MyMiniFactory, through which we are creating a digital archive of fully 3D printable sculptures, artworks and landmarks from across the globe for the public to access for free. Scan the World is an open source, community effort, if you have interesting items around you and would like to contribute, email stw@myminifactory.com to find out how you can help.
Courtesy of the Victoria and Albert Museum, London
Layer Thickness 150 microns. InFill 10%.
| | |
| --- | --- |
| Date published | 03/02/2016 |
| Time to do | 260 - 290 minutes |
| Material Quantity | 31 grams |
| Dimensions | 85mm x 55mm x 130mm |
| Technology | FDM |
| Complexity | Difficult |
| | |
| --- | --- |
| Title | Elephant table clock |
| Date | ca. 1745 (made) |
| Dimension | Height: 65 cm, Width: 44 cm, Depth: 29 cm 30cm max. |
| Accession | 1008:1-1882 |
| Period | France, about 1745, with later additions |
| Medium | Ormolu, white enamelled dial probably 19th century replacement; cast bronze elephant, base of ebony with ormolu mounts probably later 18th century addition.The quality of the chasing is very high; the central plant on the base has been cast as a separate feature. The slightly reddish patina of the elephant is characteristic of 18th century work. The elephant stands neatly on the ormolu base. |
| Credit | John Jones Bequest |
| Record | http://collections.vam.ac.uk/item/O120204/table-clock-philippe-caffieri/ |
| Artist | Signed by Jérome Matinot, case by Philippe Caffieri |
| Place | Victoria and Albert Museum, London |