Relief: Frieze from the Temple of Antoninus Pius
Published 2017-05-11T15:13:32+00:00
3,986
views
234
downloads
Community Prints
Add your picture
---
Be the first to share a picture of this printed object
Relief: Frieze from the Temple of Antoninus Pius
3D
Published 2017-05-11T15:13:32+00:00
This relief is a cast of the original of which was a section of the frieze on the Temple of Antoninus and Faustina. It was built by the emperor Antoninus Pius shortly after the death of his beloved wife Faustina (the Elder) in 141 CE. After the death of Antoninus Pius in 161 CE the dedication was change to both Antoninus and Faustina. The temple is located on the Via Sacra between the Temple of Romulus and the Basilica Aemilia, in front of the Regia.
The buildings stands on a lofty podium of large peperino blocks. The temple itself is hexastyle, prostyle with an additional two columns on the sides of the porch. The columns are of cipollino marble, monolithic, measuring 17m in height, with capitals of the Corinthian order. The entablature is decorated with a frieze depicting griffins, candelabra and acanthus scrolls, and originally extended all around the cella.
The dedicatory inscription was made in two steps. The first inscription is the second line: "Divae Faustinae Ex S.C." (To the divine Faustina by decree of the senate), made when the temple was built. The upper line was added later, after the death of Antoninus Pius, by chiseling away a part of the frieze and adding the words: "Divi Antonino et" (To the divine Antoninus and), thus completing the inscription.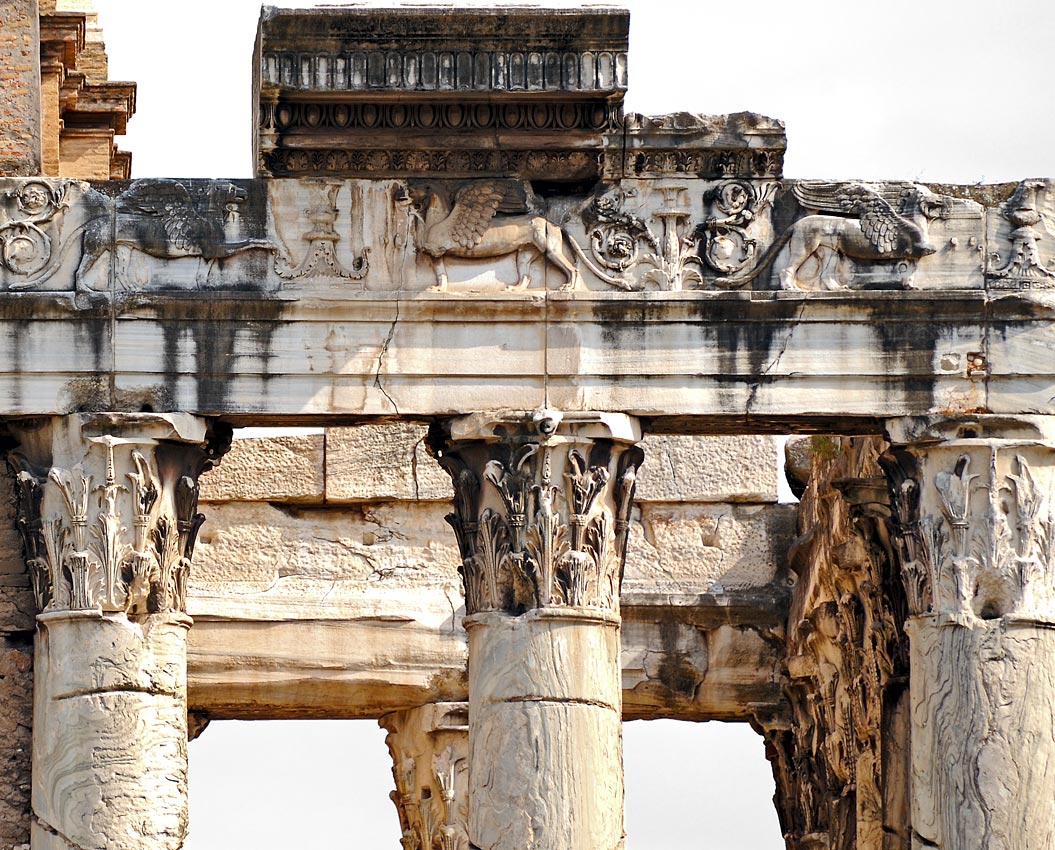 | | |
| --- | --- |
| Date published | 11/05/2017 |
| Complexity | Very Easy |