Solider Bear 'Wojtek' on Princes Street, Edinburgh
Published 2016-07-22T11:27:10+00:00
3,541
views
211
downloads
Community Prints
Add your picture
---
Be the first to share a picture of this printed object
Solider Bear 'Wojtek' on Princes Street, Edinburgh
3D
Published 2016-07-22T11:27:10+00:00
Wojtek (1942–1963; Polish pronunciation: [ˈvɔjtɛk]) usually spelled Voytek in English, was a Syrian brown bear found in Iran and adopted by soldiers of the 22nd Artillery Supply Company of the Polish II Corps. He was later officially enlisted as a soldier of the company with the rank of Private, and subsequently became a Corporal. During the Battle of Monte Cassino, Wojtek helped move crates of ammunition. The name "Wojtek" is a diminutive (hypocorism) form of "Wojciech", an old Slavic name that is still common in Poland today and means "he who enjoys war" or "joyful warrior".
Following the end of World War II in 1945, Wojtek was transported to Berwickshire in Scotland with the rest of the 22nd Company. They were stationed at Winfield Airfield on Sunwick Farm, near the village of Hutton, Scottish Borders. Wojtek soon became popular among local civilians and the press, and the Polish-Scottish Association made him one of its honorary members.
Following demobilisation on 15 November 1947, Wojtek was given to Edinburgh Zoo, where he spent the rest of his life, often visited by journalists and former Polish soldiers, some of whom would toss him cigarettes, which he proceeded to eat because there was no one there to light them for him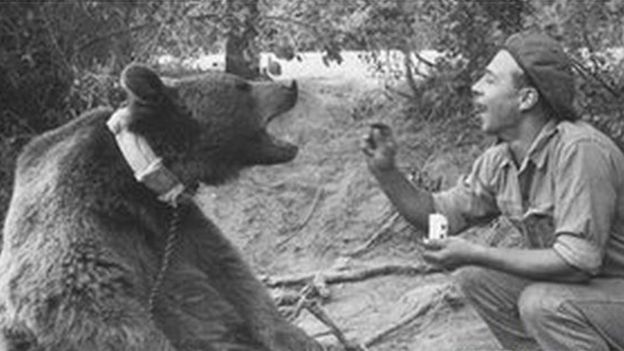 This object is part of "Scan The World". Scan the World is a non-profit initiative introduced by MyMiniFactory, through which we are creating a digital archive of fully 3D printable sculptures, artworks and landmarks from across the globe for the public to access for free. Scan the World is an open source, community effort, if you have interesting items around you and would like to contribute, email stw@myminifactory.com to find out how you can help.

Scanned : Photogrammetry (Processed using Agisoft PhotoScan)
Layer Thickness 150 microns. InFill 10%.
| | |
| --- | --- |
| Date published | 22/07/2016 |
| Time to do | 330 - 350 minutes |
| Material Quantity | 38 grams |
| Dimensions | 90mm x 100mm x 120mm |
| Technology | FDM |