St Joseph with the Christ Child
Published 2016-01-29T12:38:51+00:00
4,574
views
370
downloads
Community Prints
Add your picture
---
St Joseph with the Christ Child
3D
Published 2016-01-29T12:38:51+00:00
St Joseph is shown dressed in an abundance of drapery kneeling forward, holding the infant Christ in his arms. The sculpture is modelled in painted terracotta, and fabric (probably linen) stiffened with gesso. Both the use of colour and the intense feelings of devotion seen in the facial expression of St Joseph are typical for Spanish sculpture of this date. The cult of St Joseph, who is here shown as a relatively young father, became widespread in Spanish art during the 17th and 18th centuries, following the Catholic Reformation. He was frequently depicted alone with the Christ Child. The sculptor, José Risueño, who was active in Granada, specialised in terracotta (baked clay), although he also worked in stone and wood. The style of this piece suggests it dates from relatively late in the sculptor's career, as it relates to a wood group he executed for the high altar of S. Ildefonso in Granada dating from 1720 onwards. This terracotta was purchased for the Museum in 1863 in Granada, Spain; it may have originally served as a devotional item in a chapel.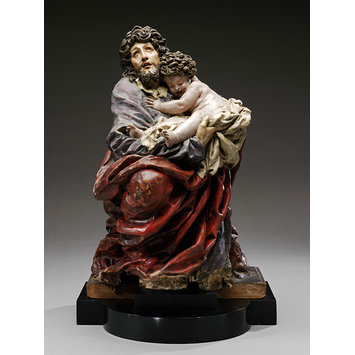 Gallery location:
Europe 1600-1815, Room 7, The Sheikha Amna Bint Mohammed Al Thani Gallery, case CA3
This object is part of "Scan The World". Scan the World is a non-profit initiative introduced by MyMiniFactory, through which we are creating a digital archive of fully 3D printable sculptures, artworks and landmarks from across the globe for the public to access for free. Scan the World is an open source, community effort, if you have interesting items around you and would like to contribute, email stw@myminifactory.com to find out how you can help.

Scanned : Photogrammetry (Processed using Agisoft PhotoScan)
Courtesy of the Victoria and Albert Museum, London
There are some supports on the model, but they did not affect cleaning process because part is quite solid, whet it is cleaning there is no risk to brake any part. Enjoy your print.
| | |
| --- | --- |
| Date published | 29/01/2016 |
| Time to do | 908 - 1776 minutes |
| Material Quantity | 2017 |
| Dimensions | 106.6 x 120.1 x 156 mm |
| Technology | FDM |
| Complexity | Easy |