Time Unveiling Truth at The Louvre, Paris
Published 2015-05-13T17:37:27+00:00
5,519
views
338
downloads
Community Prints
Add your picture
---
Be the first to share a picture of this printed object
Time Unveiling Truth at The Louvre, Paris
Published 2015-05-13T17:37:27+00:00
The allegory of Time and Truth was a fairly uncommon subject in art and only took flight in painting in the Renaissance before starting to be featured in sculpture as late as the 19th Century. In the allegory Truth is depicted as a proud young woman whose fair, voluptuous beauty is revealed by the dark, gnarled figure of Father Time. Time's chariot and his scythe symbolize death. The snake, parrot and mirror Truth holds represents her enemies: sensuousness, vanity and devit. Truth's emblem, the sun, shines above, while all earthly things lay at her feet.
Other artworks depicting the complex allegory of Time Unveiling Truth are paintings by Giovanni Battista Tiepolo and Bronzio: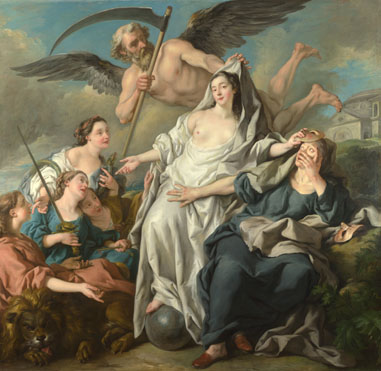 This object is part of "Scan The World". Scan the World is a non-profit initiative introduced by MyMiniFactory, through which we are creating a digital archive of fully 3D printable sculptures, artworks and landmarks from across the globe for the public to access for free. Scan the World is an open source, community effort, if you have interesting items around you and would like to contribute, email stw@myminifactory.com to find out how you can help.
| | |
| --- | --- |
| Date published | 13/05/2015 |
| Dimensions | 111.64mm x 22.35mm x 128.91mm |
| | |
| --- | --- |
| Title | Time Unveiling Truth |
| Place | The Louvre |