If you haven't seen Avengers: Endgame yet what have you been up to?
The film is already shattering records at the box office with the biggest opening weekend in history at $1.2 billion, obliterating the previous record holder which was last year's Avengers: Infinity War with a $640 million opening. The next big question is can Endgame unseat 2009's Avatar (remember that movie?) as the highest grossing movie of all time? It's not such a big leap from $1.2 billion to $2.8 billion.
For those of you that have yet to see it, do not fear, there will be no spoilers here. #DontSpoilTheEndgame.
But what we can say is that this movie is well worth the hype. As a sequel to Infinity War as well as the culmination of 11 years of MCU (Marvel Cinematic Universe) movies, it really is a gift to the fans that have stuck with the franchise all this time. With plenty of callbacks and references to all the previous movies, it really demands to be seen more than once, which could be the plan for tipping over that box office record. It's also probably a good idea to take some tissues with you, you'll be laughing and crying in equal measure, as some storylines are brought to a close. But there is also plenty set up for future MCU movies, because they just make too much money for Disney to stop making them!
In light of this film's spectacular feat, we thought it was time to get into the Avengers spirit by showcasing some of the best guaranteed 3D printable files based on those MARVELous superheroes by our community of designers.
1. I Am 3D Printed Iron Man
The original superhero in the MCU, having appeared in 10 movies out of the total 22 as played by Robert Downey Jr. Tony Stark, AKA Iron Man deserved a place at the top of our list, as he does at the top of our hearts.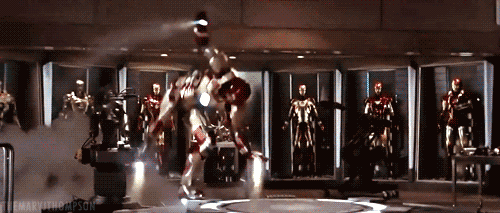 Iron Man gets his powers from a supersuit of his own creation, so in the movies he is constantly upgrading it, leading to different MK's, and of course different merchandise. Printed Obsession has designed this 3D Printable model of Iron Man in Zbrush, based on the MK42 armour that appeared in 2013's Iron Man 3. In the model, Iron Man strikes the famous superhero landing pose, which was also famously mocked in Deadpool. Printed Obsession has chosen to showcase his 3D print in a grey and gold color scheme, one of the many color schemes Iron Man's armor has appeared with in the past. But you can choose to print, as many have, in the traditional red and gold, or try a new filament color out.
Click the link to suit up with the 3D printable Avengers model.
2. You Could 3D Print This All Day
Though Iron Man was the first Avenger we saw in the MCU, the first Avenger chronologically in universe was Steve Rogers, AKA Captain America. First appearing in 2011's aptly named Captain America: The First Avenger, he has also appeared in 10 MCU movies, played by Chris Evans.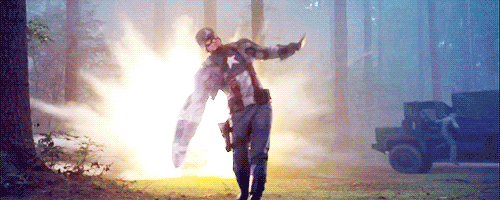 Rob Puasa has designed this stunning 3D Printable design of Cap's signature weapon, his red, white and blue shield. Rob has painted and presented his 3D model to resemble the way the shield appeared in Cap's first movie, but the shield has had some different looks over the course of the 22 movies so feel free to paint yours based on your favorite. You could make it bright and shiny as it appeared in 2012's The Avengers or paint it with the claw marks made by Black Panther's vibranium claws in 2016's Captain America: Civil War.
Click the link for this mighty 3D Printable Captain America shield. And have a look at Rob's design process here:
3. Fortunately, This 3D Print is Mighty
Completing the MCU's original main trinity of superheroes is Thor Odinson, usually just known as Thor, portrayed by Chris Hemsworth in 8 movies. As a god from the Norse inspired realm of Asgard, Thor was the first Avenger to originate from space, paving the way for heroes like the Guardians of the Galaxy and Captain Marvel to enter the fray.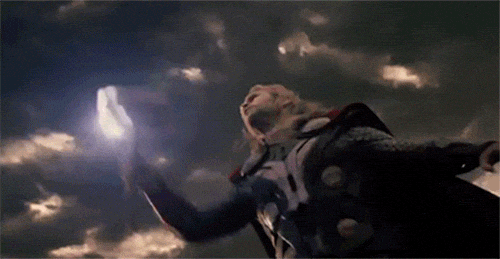 Up until its destruction by Hela in 2017's Thor: Ragnarok, Thor's hammer Mjolnir (pronounced Myol-Near) was his chief weapon, allowing him to harness his power as the god of thunder, even though technically he makes lightning. Laura Pantaleaone designed this formidable 3D printable Thor bookend based on Mjolnir, allowing you to keep your comics, or your MCU DVD's secured on your shelf by Asgard's mightiest weapon. Laura has also designed another 3D printable bookend based around Captain America's shield if you want the other end of your shelf to stay protected by Earth's mightiest.
Click the link if you're worthy to 3D Print this helpful hammer.
4. She's Got Red in Her 3D Printer
First appearing in 2010's Iron Man 2, Natasha Romanoff, AKA Black Widow, as portrayed by Scarlett Johansson has appeared in 8 MCU movies. Black Widow was the first female hero in the MCU and as such, she holds a special place in many fans hearts. And she's finally getting her own movie, which begins filming in June 2019 and is expected to be released in 2020.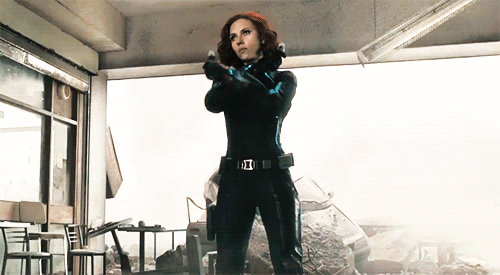 A big part of any superhero franchise has always been fan conventions, and fan conventions are all about cosplay. Juri Munkki has designed these 3D printable shoulder, elbow and knee pads based on Black Widows appearance in 2017's Avengers: Infinity War, for any of our female 3D makers wishing to cosplay as their favorite super assassin at their next comic con. To complete the look, you can also 3D print Widow's belt, backpack & wrist bites, all designed by Juri.
To equip yourself with 3D printed armor, click the link.
5. 3D Printable Hulk, Smash!
Bruce Banner AKA The Hulk has had a bit of a tough time of it in the MCU. Originally played by Edward Norton in 2008's The Incredible Hulk, the role was then recast and given to Mark Ruffalo for 2012's The Avengers onwards. Since Universal still owns the rights to distribute any future solo Hulk movies, needless to say, Disney doesn't want to make anymore. Luckily for The Hulk, Disney got around this development by simply including him as a supporting hero in other character's movies, allowing this original Avenger to get the love he deserves and appear in a total of 8 movies.
3DWP is certainly showing The Hulk a lot of love by creating this 3D printable model of the big green guy based on 3D scans he found of a Hulk figurine. He created the design by combining the 3D scanned parts in VisCam, he then sculpted the combined parts into the finished model using MeshMixer.
The 3D model is easy to print, and is designed with breakaway supports so you can reach that smooth finished look much quicker. Hulk is mostly green, due you his mutation from gamma radiation exposure, so this is a good project for those of you just getting into the art of painting your 3D printed models. However, if you're looking for a challenge you can still use your paint skills to add some extra detail to big guy, and really show him as if in action, in the heat of a battle. The painted 3D Hulk model pictured was printed and detailed by Julien Darmon, thanks for sharing your community print!!
Click the link to smash out this 3D printable Hulk!
6. Boom! You Lookin For This 3D Printable Helmet?
Another of the Avengers to go through a recast, Colonel James Rhodes was originally portrayed by Terrence Howard in 2008's Iron Man. However, from 2010's Iron Man 2 on, he has been played by Don Cheadle in 7 movies, and become the Avenger known as War Machine, briefly being renamed Iron Patriot in 2013's Iron Man 3.
This cosplay 3D printable helmet design from Peter Snyder is based on the Iron Patriot incarnation of the character. Designed after being requested by one of his patrons, it is sized ideally for an adult male. Having been downloaded over 6,000 times by our community, we know that many people have been having fun creating their own 3D printable Iron Patriot/War Machine costume. As with his fellow iron person further up this list, you can experiment with filament colors to try and mimic the different incarnations of the War Machine armour. Have a look at what Bjarke Mejlvang & Rob Kilgallon did with it in their community prints.
If you want to be Iron Man's best friend, click the link to 3D print this helmet.
7. I Am 3D Printable Groot!
"I am Groot!" If you were Groot, that's all you would be able to say. Luckily, we're not.
A sentient tree of very limited vocabulary introduced in 2014's Guardians of the Galaxy as one of the original members of the intergalactic superhero team; Groot, voiced by Vin Diesel has appeared in 4 movies of the MCU.
After sacrificing himself in the first Guardians film, Groot had to regrow from a twig leftover from his old body. Resulting in him appearing as Baby Groot in 2017's Guardians of the Galaxy Vol.2 and later Teen Groot in Avengers: Infinity War. Tom Davis has taken inspiration from the incredibly popular Baby Groot to create this quirky 3D printable Groot plant pot. Its an idea so brilliant you'll be surprised you didn't think of it yourself. Groot is a tree, he's the most obvious Marvel superhero to grow flowers out of. Tom 3D printed Groot in orange filament, but why not try printing yours in a wood filament, to get that authentic sentient tree look. What flowers do you think would look good as Groot's new hairdo?
I am Groot. I am Groot, I am 3D Printable Groot!
8. Higher, Further, Faster 3D Printing
The newest Superhero to join the MCU with this years Captain Marvel, is Carol Danvers AKA Captain Marvel. Played by Oscar winner Brie Larson, she is set to have a large role in the coming years of this billion dollar franchise. Danvers is already up to 2 movie appearances, as she plays a small role in Avengers: Endgame as well as her own film.
MyMiniFactory Studio Designer Fotis Mint, created this 3D printable Captain Marvel bust of the hero based on her traditional appearance in Marvel Comics. Busts are a popular item for 3D designers and Makers on our platform, probably because they look great on a shelf, and they're fun to paint too! Fotis has created many busts, including several other MCU favourites like Captain America and most recently Thor. You could have a go at remixing this bust to look more like Brie Larson's version of the character, though you may find Brie ends up looking a bit more like the traditional Marvel comic image in her appearance in Endgame.
To add the newest member to your 3D printed Avengers collection, click that link!
9. Bring Me 3D Printed Thanos!
Every superhero team needs a good villain to fight, and Thanos definitely proved to be a powerful enemy. Thanos, played by Josh Brolin, originally appeared in 3 movies in cameo appearances, pulling the strings behind various events in the MCU. He then took a starring role as the 'Big Bad' in Avengers: Infinity War & Endgame.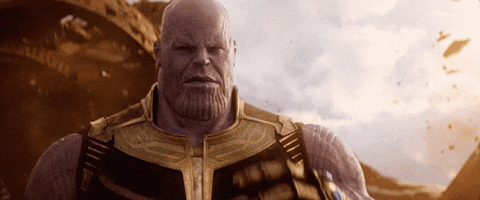 Busts Are David Ӧstman's specialty, check out his other 3D printable Marvel busts of Spider-Man, Captain America & Deadpool which are also very popular (we told you busts were a big deal). This incredibly detailed bust is easy to 3D print and is support free, so there's no need to waste time removing supports, you can get right down to painting it. You could also try remixing it to create a 3D printable bust of Thanos in his battle armour, then you could print it in a metallic gold filament to give it a bit of extra shine.
Thanos' ultimate goal is to bring balance to the universe by wiping out half its population, but you can bring balance to your Avengers 3D printed collection by making sure you have some evil to counteract the light. Click the link to avoid that snap!
10. 3D Print a True Hero
Without comic book creators none of Marvel's fantastic achievements, on screen or on the page, would be possible. In November 2018 we sadly lost former president and chairman of Marvel comics, the incomparable Stan Lee. Lee was a legend among Marvel fans, as well as comic book fans in general, having created such characters as Iron Man, Spider-Man and Thor. Stan himself became a stalwart of the movies, having a cameo appearance in all 22, making him the only actor to have appeared in every MCU film.
Thanks to Ricardo Alvarez, you can now have the great Stan Lee as a part of your life forever more. This incredibly detailed 3D printable Stan Lee bust will take pride of place on any marvel shelf among busts of Stan's many creations. It's a fun project for any Marvel fans who love to paint, allowing them to work on getting that detail and replicating the real man as best they can. Have a look at how Sean Aranda tackled his 3D model in community prints, or you could do something like The Virtual Foundry and 3D print him in all gold filament as a tribute to the man's great achievements.
Click the link to 3D print and pay your respects to this departed icon.
Watching Avengers: Endgame really makes you appreciate how much work has gone into the Marvel Cinematic Universe over the last 11 years, and how much this world and its characters means to people.
Designing and sharing your own 3D printable fan art is a great way to spread your love for this franchise with other designers and makers on our platform.
Have you seen Endgame? Are you going to print something from this list now? Or are there any MCU Avengers we didn't mention that you'd like to see on MyMiniFactory? How about Black Panther, Scarlet Witch or Doctor Strange?
If you want to share with us your Marvel prints and any new designs you come up with we'd love to see them. You can share in community prints, or show them to our community directly on our Twitter, Facebook or our very own Reddit discussion page. We can't wait to see what you create!
3D Designers..
Assemble!